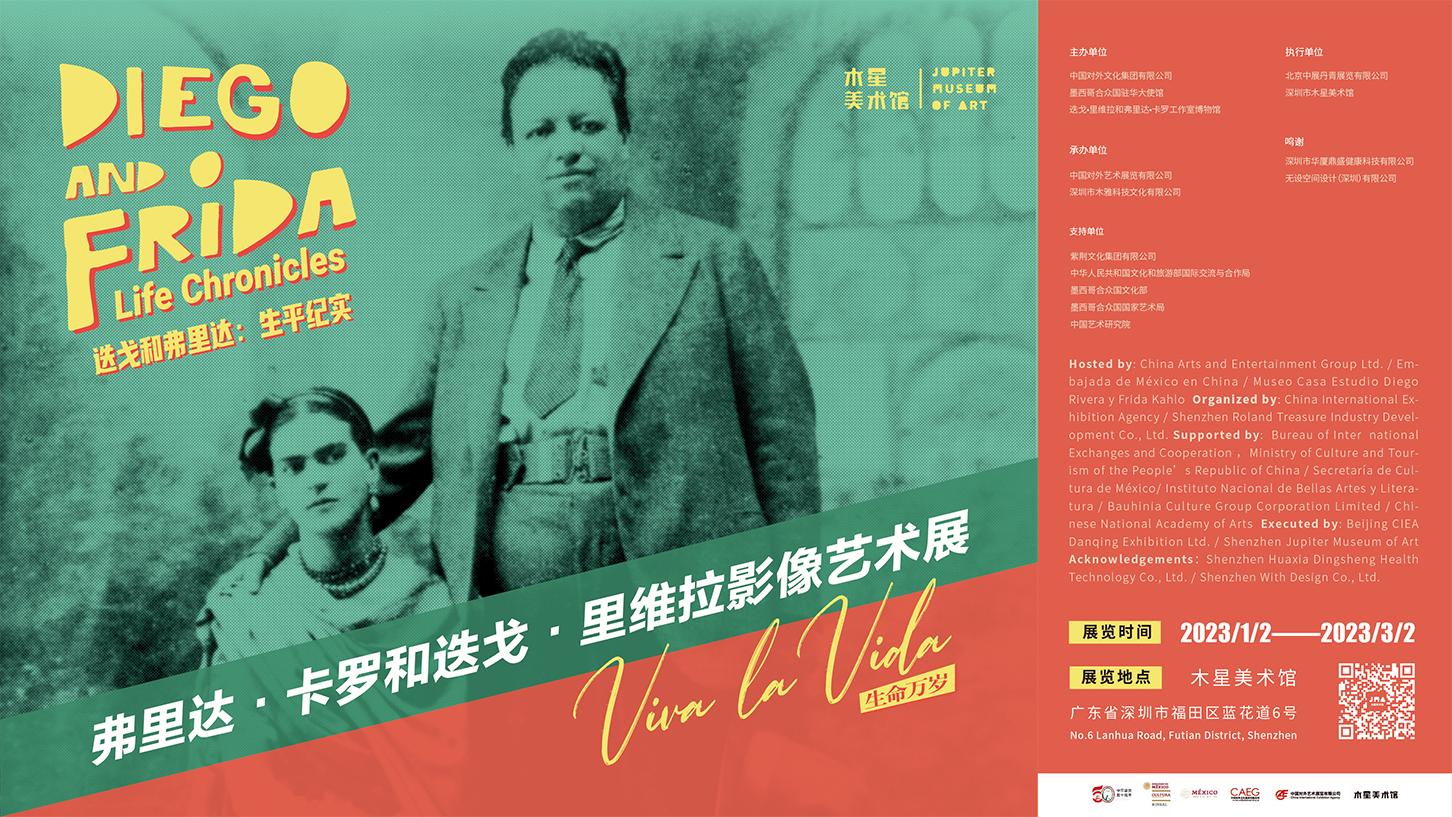 2022年是中国与墨西哥建交50周年,为促进中国与墨西哥的文化交流与合作,由中国对外文化集团有限公司、墨西哥合众国驻华大使馆、迭戈•里维拉和弗里达•卡罗工作室博物馆主办的"生命万岁——弗里达·卡罗和迭戈·里维拉影像艺术展"(迭戈和弗里达:生平纪实 Diego and Frida: Life Chronicles)于2023年1月2日至2023年2月2日在木星美术馆展出。该展将呈现墨西哥艺术家弗里达•卡罗和墨西哥壁画家迭戈•里维拉艺术生涯和成就,展品包括纪实摄影作品60幅及相关视频。
前言|迭戈·里维拉和弗里达·卡罗工作室博物馆
迭戈·里维拉与弗里达·卡罗是墨西哥艺术史上最出名的夫妻之一。他们迷人的形象帮助奠定了文化蓬勃发展的环境,并对20世纪墨西哥的文化生活产生决定性影响。
在他们彼此陪伴将近25年的岁月里(自1929年8月结婚至弗里达·卡罗去世),两人无数次的分分合合从私人领域上升到了公共领域。以卡罗与里维拉的爱情为核心也形成了文人、政治家和各类名人的交汇处。他们的家成为了影响墨西哥社会生活与政治的聚会地。因里维拉受到委托,两人在美国断断续续地生活的一段时间让他们对资本主义、进步和革命有了新的认识,但这也是二人关系的转折点。
他们回到墨西哥标志着另一个转折点:这对夫妇于1939年底分开,一年后在旧金山复婚。那是一个充满活力和热情的时代:里维拉是墨西哥政府决定为托洛茨基提供庇护的关键人物。另一方面,二人与超现实主义创始人安德烈·布勒东的共住也促成了弗里达·卡罗在1939年的巴黎个人展。经年累月,他们与艺术家和知识分子编织的网络成为墨西哥现代化力量的一部分。
本次展览汇集了著名摄影家镜头里这对夫妇的朋友和同事的影像实证,包括吉列尔莫·卡罗、吉列尔莫·萨莫拉。作品涵盖了弗里达·卡罗和迭戈·里维拉人生中的重要时刻。照片中也记录了卡罗的痛苦和健康恶化、她的政治活动,以及她在1954年7月去世前几天出现的最后的形象。
展览时间
2023.1.2—2023.3.5
展览地点
深圳市木星美术馆B馆
深圳市福田区蓝花道6号
主办单位
中国对外文化集团有限公司
墨西哥合众国驻华大使馆
迭戈里维拉和弗里达卡罗工作室博物馆
承办单位
中国对外艺术展览有限公司
深圳市木雅科技文化有限公司
Viva la Vida —— Diego and Frida: Life Chronicles
In order to promote cultural exchange and cooperation between China and Mexico, the exhibition Viva la Vida —— Diego and Frida: Life Chronicles, organised by China Arts and Entertainment Group Ltd., Embajada de Mexico en China and Museo Casa Estudio Diego Rivera y Frida Kahlo. The exhibition will be shown at the Jupiter Museum of Art from 2 January 2023 to 2 February 2023. It will present the artistic careers and achievements of Mexican artist Frida Kahlo and Mexican muralist Diego Rivera, including 60 documentary photos and related videos.
Preface|Museo Casa Estudio Diego Rivera y Frida Kahlo
Diego Rivera and Frida Kahlo are one of the most celebrated couples in Mexican art history. Their charismatic personalities helped to establish a movement which would have a decisive influence on the cultural of 20th-century Mexico.
During the almost 25 years that they accompanied each other (from their marriage in August 1929 until the death of Frida Kahlo), their numerous break-ups rose from the private to the public sphere. At the core of Kahlo and Rivera's love affair also formed a confluence of literati, politicians and all kinds of celebrities. Their home became a meeting place that influenced Mexican social life and politics. With Rivera's commission, the intermittent time they spent living in the United States gave them a new understanding of capitalism, progress and revolution, but it was also a turning point in their relationship.
Their return to Mexico marked another turning point for the couple - who were separated at the end of 1939 and remarried one year later in San Francisco. It was a dynamic and enthusiastic era: Rivera was a crucial figure by which the Mexican government decided to grant Leon Trotsky asylum. On the other hand, their co-residence with André Breton, the founder of Surrealism, contributed to Frida Kahlo solo exhibition in Paris in 1939. Over the years, the network they wove with artists and intellectuals became part of the modernising forces in Mexico.
This exhibition is a collection of photographs of distinguished artists who were friends and colleagues of the couple, among them Guillermo Kahlo and Guillermo Zamora. The images depict important moments in the lives of Frida Kahlo and Diego Rivera. It also reflects Kahlo's pain and physical deterioration, as her political activism, including the last photograph taken of her in a political demonstration days before her death in July 1954.
Time
2023.1.2-2022.3.5
Location
Hall B Jupiter Museum of Art
No.6 Lanhua Road, Futian District, Shenzhen
Hosted by
China Arts and Entertainment Group Ltd.
Embajada de Mexico en China
Museo Casa Estudio Diego Rivera y Frida Kahlo
Organized by
China International Exhibition Agency
Shenzhen Roland Treasure Industry Development Co., Ltd.