木星美术馆于 2022 年 8 月 13 日至 9 月 11 日呈现骆馅饼首个展《梦里柔软的你》羊毛毡艺术展,展出其羊毛毡雕塑、装置及插画等系列作品,以艺术家心理经历与梦境为载体,带观众走进一场温暖治愈的奇妙旅程。
我们在城市化高度发展的时代下生活,快节奏和压力导致人们长期处于心力交瘁的状态,当压抑、焦虑、不安充斥的年轻人的日常,大家逐渐开始寻找潜藏在内部的温暖与慰藉。或许是我们如孩童般时柔软的内心,天生带有一种温和而安静的力量,当我们再次与这份力量重逢时,何尝不是一种治愈。

在作品中,关于象征痛苦的意象和神色平静自洽的小女孩形象,它们常常同时出现。源于艺术家在重复的梦境中分裂出不同的自己,以及萌蘖出许多以兔子、鸟为代表的动物,还有诸如眼睛、肢体等人体符号,这些心理和梦境的意象交织在一起,呈现出一个混沌与纯真对立共存的画面。

对于艺术家来说,这种情绪的拉扯是她在自我与外界间试图去寻找的平衡。不管是面对生活里陌生人群带来的压抑氛围还是噩梦中出现的怪物,画面里的小女孩总是安安静静的与这一切平静的相处着。当她看着众多面孔去迎合迅速穿梭的人群时,默默地与不安定的情绪和解。在充斥黑暗的世界里仍然相信噩梦醒来会有光。

从一种层面而言,当语言已经不足以承载隐藏在背后的情绪时,艺术家选择用创作的方式,把焦虑、孤独、疾病等负面情绪都通过作品表达出来,从而获得自我疏解与救赎。

而另一个层面,艺术家从本我的维度中转向与社会群体的关系,将自己隐匿的内心显露在大众面前,反映更多人的心境。用一种符号指向性产生共鸣的情态。她为创造的这些角色注入了的生命,望以这些角色可以潜入观众的意识中,治愈我们的内心。

本次展览是艺术家对不同媒介深入探索后的立体化呈现,围绕着艺术家的创作方式及脉络,展出其羊毛毡雕塑、装置及插画等系列作品。整个展厅也将成为一个沉浸式环境作品,以艺术家的心理经历和梦境为载体,通过羊毛温暖和柔软的材料特性,表达内在柔软而又坚强的力量,带观众走进一场温暖治愈的奇妙旅程。

骆馅饼,生于辽宁沈阳,2018 年毕业于中央美术学院,2020 年毕业于伦敦艺术大学,独立艺术家、插画师、手作人。创作以插画、雕塑等形式探索身体梦境与疏离情绪,其羊毛毡雕塑讲述了每个平凡人背后的情绪,这些情绪来自童年、人群和向内的自省,依托梦中种种奇特形象,在脆弱与独处中生出了一份安然的自洽。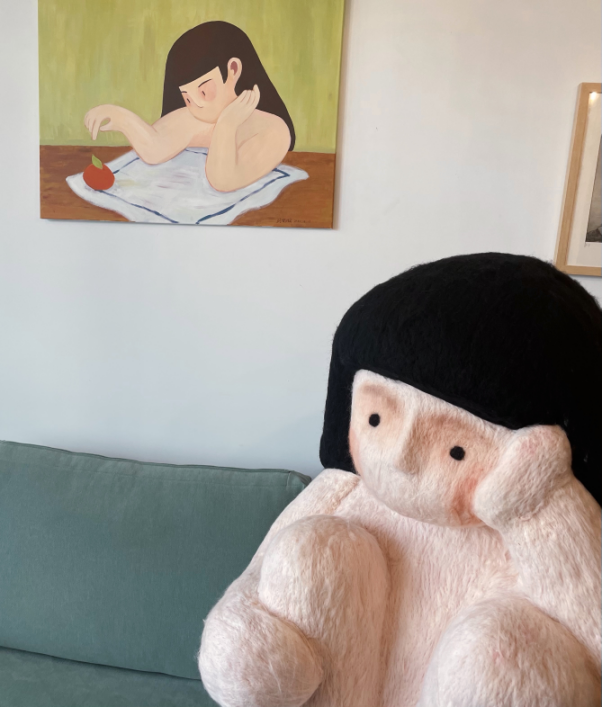 《发呆的小女孩1》/2021
110x70x70cm/羊毛毡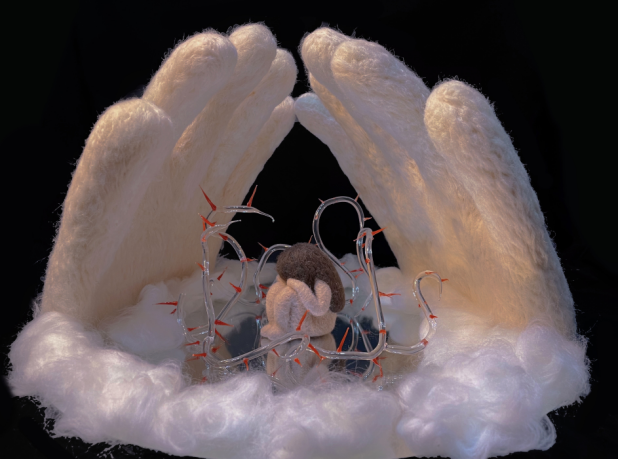 《刺系列之平凡的脆弱之处》/2022
40x40x30cm/羊毛毡、玻璃
"爱具体的人",留白美术馆,中国南宁,2022
荷兰设计周,荷兰埃因霍温,2020
考文特花园展,英国伦敦,2019
坎伯维尔艺术学院展,英国伦敦,2019
关于策展人

米选萦,毕业于意大利威尼斯美术学院装饰系,2019 年作品曾参与威尼斯美术学院举办的"Art Night"项目,2019 年参与第 58 届威尼斯双年展"May You Live in Interesting Times"布展工作,毕业后于深圳市木星美术馆策展部工作至今,参与策展包括大型群展、个展 20 余场。
展览时间
2022.08.13 - 2022.09.11
From 13 August to 11 September 2022, Jupiter Museum of Art will present the first exhibition of Xinming Luo, Soft in Your Dreams, a series of sculptures, installations and illustrations in wool felt, presenting a warm and healing journey through the artist's psychological experiences and dreams.
We live in an era of high urbanisation, where the fast pace and pressure lead to people being in a long-term state of mental exhaustion. As depression, anxiety and restlessness fill the daily lives of young people, we gradually began to look for the warmth and solace that lurk within. Perhaps it is our child-like soft hearts that are naturally endowed with a gentle and tranquil power, and when we are reunited with this power again, it becomes a kind of healing.
In the artworks, symbolic image of pain and calm, self-consistent little girl often appear simultaneously. Originating from the artist's splitting of different selves in repeated dreams, and the emergence of many animals such as rabbits and birds, as well as human body symbols such as eyes and limbs, these mental and dream imagery intertwine to create a picture of chaos and innocence coexisting in contradiction.
For the artist, this tug of emotion is the balance she tries to find between herself and the outside. Whether faced with the oppressive atmosphere of people who are strangers in her life or the monsters that appear in her nightmares, the little girl in the images is always at peace with it all. She quietly reconciles with her unsettling emotions as she looks at the many faces catering to the fast-moving crowd. In the world of darkness, she still believes that there will be light when she wakes up from her nightmares.
On one level, when words are no longer enough to carry the emotions hidden behind them, the artist chooses to express negative emotions such as anxiety, loneliness and illness through her artworks, thus achieving self-relief and redemption.
On another level, the artist turns from the dimension of the self to the relationship with society, revealing her hidden inner self to the public that will reflect the mentality of other people. A symbolic point of view is used to produce a mood of empathy. She brings life to the characters she creates in hopes that they can dive into the viewer's consciousness and heal our hearts.
This exhibition is a three-dimensional presentation of the artist's in-depth exploration of different mediums. The exhibition revolves around the artist's creative approach and lineage, exhibiting her series of wool felt sculptures, installations and illustrations. The entire exhibition hall will also become an immersive environment work, using the artist's psychological experiences and dreams as a medium to express the inner soft and strong strength through the warm and soft material properties of wool, taking the viewers on a wonderful journey of warmth and healing.
Xinming Luo, born in Shenyang, Liaoning Province, graduated from Central Academy of Fine Arts in 2018 and University of the Arts London in 2020, she is an independent artist, illustrator and handcrafter. Her wool felt sculptures tell the story of the emotions behind each ordinary person, which come from childhood, people, and inward introspection, relying on various peculiar images from dreams, which give birth to a peaceful self-consciousness in vulnerability and solitude.
Specific People, White Space Art Museum, Nanning, China, 2022
2022Dutch Design Week, Eindhoven, The Netherlands,2020
2020Covent Garden Show, London, UK,2019
2019Camberbwell College of Arts Exhibition, London, UK,2019
About the curator
Mi Xuan Ling, graduated from Decoration Department of Academy of Fine Arts in Venice, Italy, participated in "Art Night" project held by Academy of Fine Arts in Venice in 2019, and participated in exhibition works of "May You Live in Interesting Times" at the 58th Venice Biennale in 2019. Since graduating, she has been working in the curatorial department of Jupiter Museum Of Art, and has participated in more than 20 exhibitions, including large-scale group exhibitions and solo exhibitions.
Time
2022.08.13-2022.09.11
Location
Jupiter Museum of Art
No.6 Lanhua Road, Futian District, Shenzhen