2022 年 3 月 5 日至 4 月 23 日,木星美术馆推出《对抗与消解 —— 一个人的空间象征学》彭立彪个展。本次展览涵盖了近些年来艺术家几个时期的代表性作品,及其创作生涯关键节点。展览开幕式将于 3 月 5 日下午 3 点于木星美术馆举行。
木头自古以来就是构建中国人日常生活空间的基本材料。不同的木料,不同的做工,独具匠心的榫卯结构,雕梁画栋的亭台楼阁……营造出连续的象征性空间。其中那精美的木雕以建筑构件的形式嵌入人们的日常起居中,或承载着一个个吉祥寓意、或传颂着一件件道德佳话。它们以可见的形象守护着房屋的居住者,抵御着灾难、疾病、邪祟、厄运的入侵、以及人伦道德的失序。
在今天,这些空间的象征都逐渐淡出我们对于人居环境的感知,成为某种文化的乡愁。经历了将近半个世纪的工业化和城市化,替代木构的是由钢筋水泥、混凝土玻璃所构成的都市丛林。我们生活在一个个祛魅、且同质化的几何空间中,如同哲学家海德格尔所言,天、地、人、神早已消散。大量的带有精美雕刻的木质建筑构件在老房子的轰然倒塌后成为了当代室内装饰中无伤大雅的点缀,它们在现代主义风格的夹缝中呼唤着往昔的幽灵。
对于艺术家彭立彪而言,江西古镇的老家和年轻的大都市深圳构成了他生活空间的两极,在过去和未来间、在传统和现代间不断互相对抗着、消解着。他选择了木头作为雕塑创作的材料,一方面借用了中国古建筑中的木雕构件,用"局部性" 暗示着整个缺失的建筑空间,指涉着在激进的现代化下断裂的传统。另一方面,艺术家又巧妙地将代表着西方物质主义和自由主义的波普艺术融入其中,特别是受到德国艺术家史蒂芬·巴尔肯霍尔的启发。新和旧、中和外、传统民俗和当代流行共聚一堂,在同一个造型下冲突着、消解着,在双重意义系统的动态张力下,创造出艺术家个人独特的空间象征学。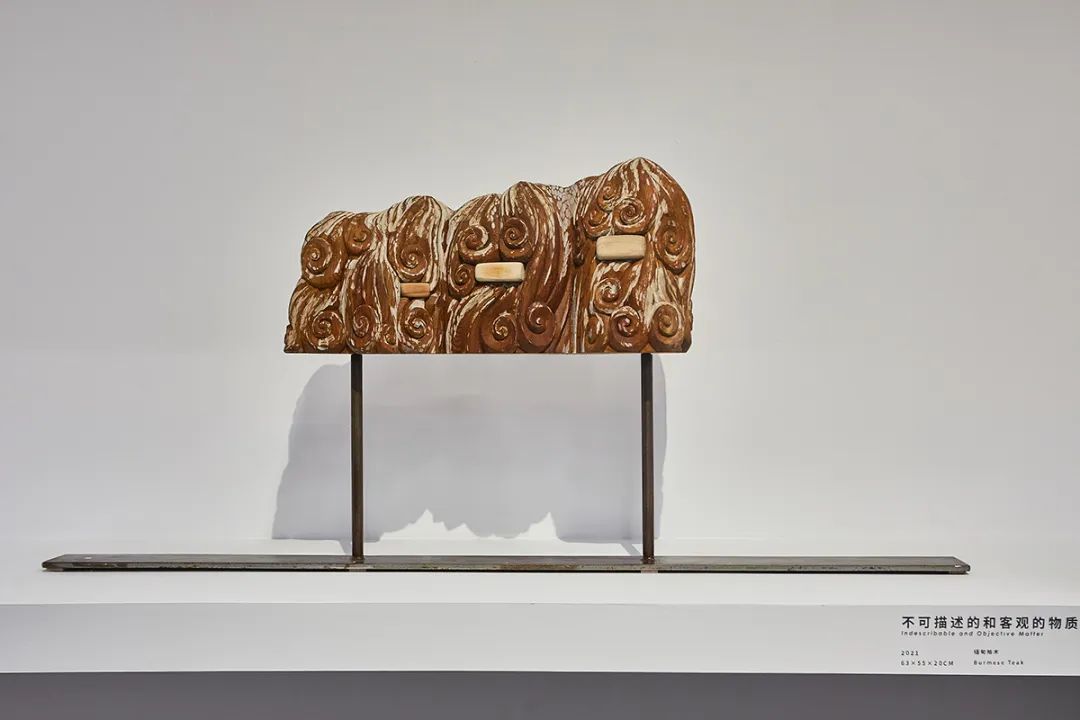 生于 1987 年,现生活工作于深圳。2009 年毕业于西安美术学院雕塑系。致力于探索雕塑本体语言与材料观念性的更多可能。
姜俊博士是艺术史家、策展人、艺术评论家,同济大学建筑学博士后,凤凰艺术专栏作家,生活和工作于上海和杭州。
陈观亨,毕业于广州美术学院版画系,青年策展人,现为深圳市木星美术馆策展总监
From 5 March to 23 April 2022, Jupiter Museum of Art presents LiBiao Peng The Confrontation and Dissolution, a solo exhibition of LiBiao Peng. The exhibition presents representative works of the artist from several periods in recent years, as well as key points in his artistic career. The opening of the exhibition is held on 5 March at 3pm at the Jupiter Museum of Art.
Author | Jun Jiang
Wood has been the fundamental material for the construction of Chinese domestic space since ancient times. Various woods, different workmanship, unique mortise-tenon connection, carved beams and pavilions and so on, create a continuous symbolic space. The exquisite wood carvings are embedded in people's daily life in the form of architectural components, carrying an auspicious symbolism or a moral tale. As visible images, they guard the occupants of the houses from disasters, diseases, evil spirits, bad luck, and the disorder of human morality.
Nowadays, these spatial symbols are fading from our perception of the habitat and have become a kind of cultural nostalgia. After almost half a century of industrialization and urbanization, the wooden structure has been replaced by armored concrete and glass fibre concrete urban jungles. We live in a geometric space that has been demystified and homogenised, and as the philosopher Heidegger said, heaven, earth, man and God have already dissipated. A large number of beautifully carved wooden architectural elements have become harmless accents in contemporary interiors after the collapse of old houses, calling up the ghosts of the past in the cracks of modernism.
For artist Libiao Peng, his hometown in the ancient town of Jiangxi and the young metropolis of Shenzhen constitute the two poles of his domestic space, constantly confronting and dissolving each other between the past and the future, tradition and modernity. He chooses wood as the material for his sculptures, on one hand borrowing the carved wooden elements of ancient Chinese architecture, using 'localisation' to allude to the missing architectural space and refer to the fractured traditions under radical modernisation. On the other hand, the artist subtly incorporates Pop Art, which represents Western materialism and liberalism, especially inspired by the German artist Stephan Balkenhol. The new and the old, the Chinese and the foreign, traditional folklore and contemporary fashion converge, and under the same form they clash and dissolve, creating the artist's unique spatial symbolism under the dynamic tension of a dual system of significance.
About the artist
Libiao Peng
Born in 1987, he now lives and works in Shenzhen. Graduated from the Sculpture Department of Xi'an Academy of Fine Arts in 2009. He is devoted to exploring more possibilities of sculptural ontology and material conceptualization.
About academic moderator
Jun Jiang
Dr Jun Jiang is an art historian, curator and art critic, a PhD in architecture from Tongji University and a columnist for Phoenix Art, living and working in Shanghai and Hangzhou.
About the curator
Guanheng Chen
Guanheng Chen, graduated from the Printmaking Department of Guangzhou Academy of Fine Arts, is a young curator and currently the curatorial director of Jupiter Museum of Art in Shenzhen
Exhibition information
Time
2022.3.5 — 2022.4.23
Location
Jupiter Museum of Art
No.6 Lanhua Road, Futian District, Shenzhen
Academic Moderator
Jun Jiang
Curator
Guanheng Chen
Producer
Hongrong Lv
Co-sponsor
WITHDESIGN